Hap2U 's mobile phone technology – Hap2Phone – was named Innovation Awards Honoree ahead of the 2020 Consumer Electronics Show (CES).
CES, the world's biggest event in the industry, is held in Las Vegas every year. This global stage for innovation is attended by leading consumer electronics companies hoping to shape the next generations with their breakthrough innovations. The CES Innovation Awards distinguish outstanding design and engineering in consumer technology products.
HD on-screen texture sensations: A world first
Hap2U was recognized by CES for its cutting-edge mobile phone technology, the first-ever made smartphone with haptics display.
"Hap2Phone offers the physical touch experience of what users see: If there is a fish on the screen, the user feels its scales, same for a push button, a slider, the wheel of a car in a video game…basically the user will have the vivid sensations of feeling every item he sees on the screen".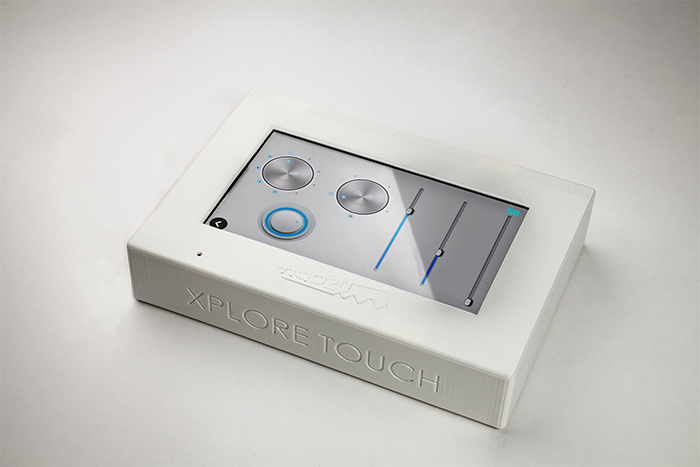 "This award marks an important milestone in the history of Hap2U. It rewards our boldness and vision of what tomorrow's smartphones will be like. Today the only feeling a user can have with a current mobile phone is vibration when receiving a text message or the feeling of a click, but never HD texture sensations." explains Cédrick Chappaz, Hap2U CEO & co-Founder.
A technology suited to all products with screens
Hap2U technology can be integrated into any product that has a screen. The company has captured widespread attention from the automotive, home appliance and mobile markets alike.
"As an honoree of the 2020 CES Innovation Award, we are going to be able to deploy our technology further in many products thanks to new partnerships with major smartphone and screen manufacturers," says Cédrick Chappaz.
Indeed, all manufacturers integrating screens in their products have the same need, that of responding to the problems related to the digitalization of these products – a massive use of the screen – by making them both interactive and tangible. "This is what we call the best of both worlds at Hap2U," goes on to explain Cédrick Chappaz.
The haptic screen: the best of both worlds
The major advantage for product manufacturers is that they no longer have to choose between touch screen interactivity and texture sensation. Indeed, until now, manufacturers had to either add buttons or devices around the screen (which are not necessarily user friendly) or provide a touch screen alone (leading to a loss of efficiency and precision for the user).
The Hap2U revolution – People at the heart of innovation
Remember when Apple first launched its iPhone: physical keys were replaced by the touch screen in what was a revolution at the time. Now thanks to Hap2U, smartphones are entering a new era of multisensory screens that are more intuitive, immersive, offering a complete Haptics 2.0 experience.
At Hap2U, everything starts with a fundamental concept: to put people at the heart of innovation, not the other way around. The company has the ambition to continually improve the Human Machine Interaction (HMI): making it more intuitive and safer.
Indeed, the company explains that before being consumers, we are first and foremost human beings. To communicate we use several senses and the sense of touch is probably one of the most important one.
However, in spite of the importance of the sense of touch, haptics has been overlooked for several years by smartphone and other screen designers, even though the technology offers irreplaceable tactile sensations.
"Think about users on their smartphone in noisy or harsh-lighting conditions – outdoors, for example – how touch then becomes a major feature to improve their experience. HD texture sensation is a crucial interface between the user and the outside world, introducing an added level of interaction compared to traditional screens.
Our user-friendly technology enriches the overall emotional experience, offering incredible sensorial interaction which gives users a better grip on their device," says Cédrick Chappaz.
Haptics: tried and tested
The company regularly tests its latest applications thanks to a test-user panel. The feedback is unanimous: users systematically prefer screens with Hap2U technology rather than with the classic version.
"We are always eager to put our technology in the hands of users and developers: they inspire us with their creativity and this will certainly lead us to develop in ways we do not even suspect yet! And that's what's exciting: to see users inspire us in not only meeting basic needs, but also in reinventing the tactile technology we use in our daily lives," concludes Cédrick Chappaz.