HAP2U has just been awarded a CES innovation prize, for integrating haptic technology into a mobile application.
After raising capital with Daimler and producing solutions to integrate haptic technology into the car and the home, HAP2U has now developed a solution, HAP2Phone, for the mobile phone. We decided to interview the design team, represented by Anne Vikhrova, UX/UI, to learn more about the design process.
What does applying haptic technology to a mobile phone actually mean?
Anne Vikhrova: Haptics are actually already used in mobile technology. When your phone vibrates for example, this is a form of feedback. The user is being informed that something
has happened, you've received a message, or a call for example. The difference with our technology is that it is localized, which means we are able to provide specific feedback. Rather than just the entire phone vibrating, a user can be informed, of an action by a simple change of texture under the fingertips.
What benefit does that bring the user?
Fundamentally we are looking to help the user navigate more easily. This could be to switch applications, to validate a command, to move throughout a web page. By providing signals to the user at each stage of their navigation, it becomes easier for them to understand where they are in the process and what they need to do to complete their journey.
Is this technology user friendly?

Of course, that is our aim. Initially users are surprised by haptics simply because they are not used to it, but ideally, haptics allow the user to understand the cause and effect relationship between an action and its result.
How did the design team go about the research phase for this new application of haptics?
By analyzing what applications already exist and studying what users do with those applications. Then we set about imagining how we could integrate haptic technology to make navigating easier for the user. For the moment, all of our research and testing is carried out in-house.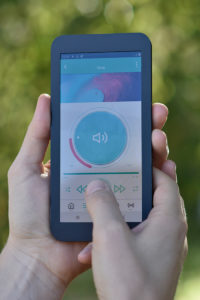 What sort of features have you included in the prototype?
The basic features that most users action, for example making a call, accessing contacts, setting an alarm, playing a game or playing a video app to watch a film.
What was the whole process that you went through to develop the product from beginning to end?

We always begin by researching user interaction with mobile phones and various mobile applications. Then, we defined the type of localized haptic feedback we thought was pertinent to integrate. After that, it's simply a loop of ongoing review. The design and the production are an iterative process. The process of creating an application is never finished but we're really happy with the result.
How long did it take to develop?
How long is a piece of string? It depends where you start from and any UX designer knows that the journey is never complete. It's an interactive process that never ends. At some point, the team feels that we are close enough to launch a prototype, but we know that this is just the start of an ongoing journey.
What was the biggest challenge?
Understanding the complex needs of the users and finding ways in which haptic technology could respond to those needs. Defining the problem is always a difficult task for any UX designer. If you get the problem wrong, the solution is clearly of no use.
What did you learn on your journey?
That we will always be learning and it is the learning process that keeps the project exciting. As designers, we jump from global macro influences to detailed micro interactions.  It's all about asking the right question at the right time.
How do you see this product evolving?
That's impossible to answer right now. We just need to keep learning from how people are using mobile devices and identify areas where we can intelligently integrate haptics.
And finally, what advice would you give a young student designer looking to launch their career?
Stay curious and open minded. Keep asking questions.
Want to know more about this innovative new solution that is set to make our lives easier through a haptic enhanced mobile navigation?