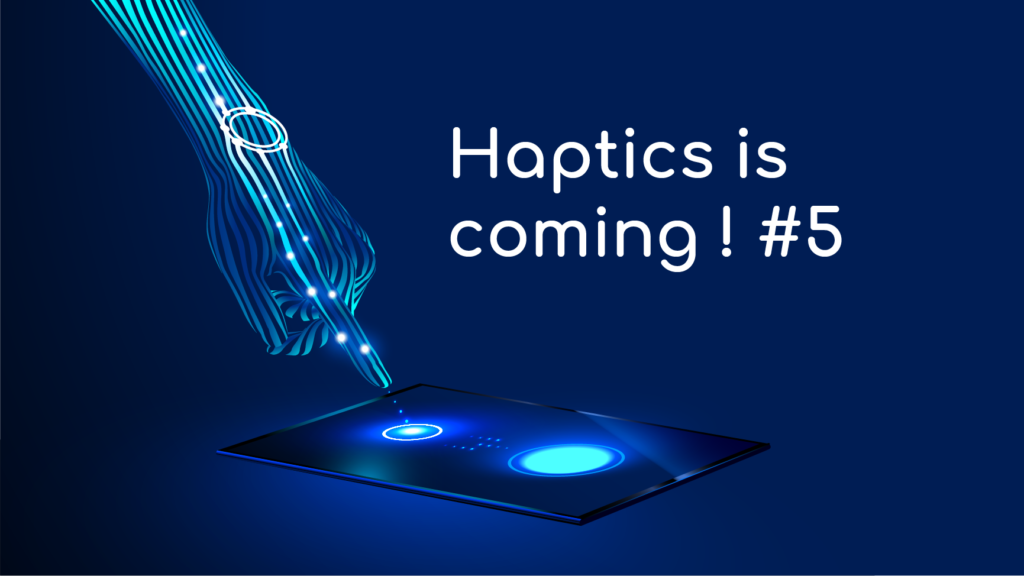 Hap2U is able to deliver such amazing feedback technology, thanks to a unique expert team working on acoustics, mechanics, materials, electronics, software who really put to an unreached level haptics feedback solution.
[Cédrick Chappaz]: Let's assume that a cover glass, a display, is like a guitar rope.
So what we do here, we try to tune the mechanical behaviour of a display versus the haptic properties of the display itself.
Everything must be taken into account. The mechanical properties of the materials and the way the display is embedded into the casing of the smartphone, in order to really tune the working frequency and the mechanical amplitude of the vibration on top of the display stack.
How do we deliver the mechanical vibration to the display?
[C.C.]: In fact, we use what we call piezo actuators. They are electrical components capable of changing the shape versus an electrical voltage which is applied to the actuator.
Imagine the actuator bonded to the display. If the shape of the actuator is changing then the display vibrates like a wave on the top of the sea. And this is exactly what is occurring on the top of the display stack.
So the main difference with inertial based solutions is you don't feel exactly the vibration because the amplitude of vibration is quite low in the range of one micrometer, so you can't feel it directly.
What you feel is the friction beneath your finger is changing in the real time.
Now, imagine, you are on the beach with your wave board and you surf on the wave.
As long as there is water between your board and the sand, everything is fine. But if the water is removed, then, your board is in contact with sand, roughness and frictions are increasing and then you are stopped. Changing the friction in the real time with the fingers helps reduce the friction.
Then you can really stop the finger movement.
This is how we provide texture rendering, slider, scroll wheel feedback and interactive way on the top of the display.
[C.C.]: You are now able to understand the difference between Hap2U technology and the other solutions because we deliver mechanical feedback below your finger to give you a realistic haptic feedback when you touch a slider, move a slider you fell as it was a real one !
That is Hap2U technology!
In the next video, Dr Cédrick Chappaz will explain to you what happen at IFA Berlin.
And remember: Haptics is coming!