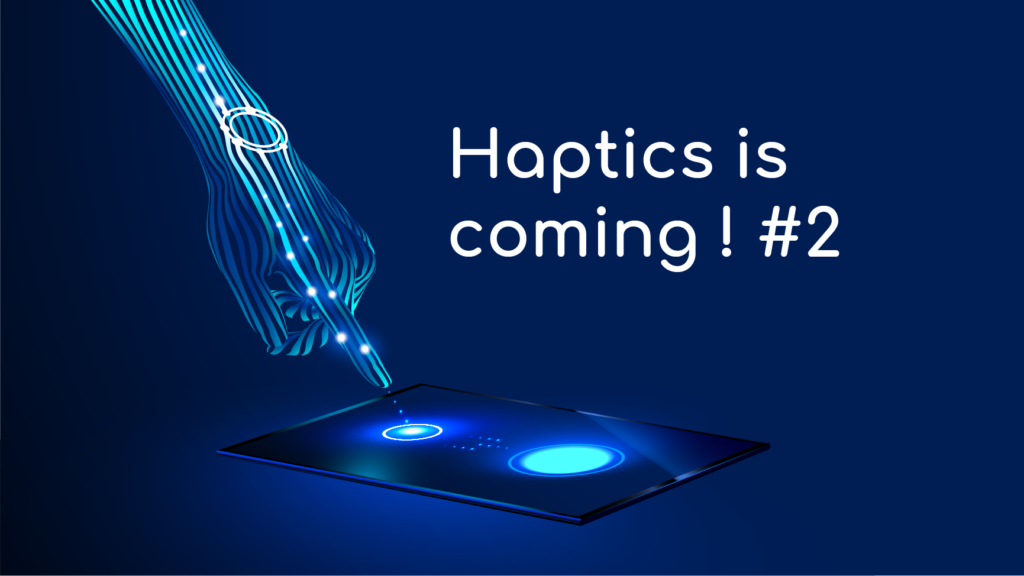 What are the use cases for Hap2U technology and how to use this amazing solution in my everyday life? Dr. Cédrick Chappaz gives you some examples of how we can really solve some big issues of using display.
How can we expect haptics in the automotive industry?
[Cédrick Chappaz]: It is one of our key market. In automotive most of the information are delivered now from the display: infotainment, temperature, radio and sound. And the main issue is that you have to look at your display to get all these informations and the time you spend to look at the display you don't spend it looking at the road which is a bad point.
How to deliver a real tangible and scalable haptic feedback?
Now when you touch your display, you will feel exactly the scroll wheel, the sliders and even the buttons on top of the display and in the meantime it is an interactive and tangible feedback.
So the key point is that this solution helps to reduce the mental load so this means the concentration level you need to put to «re-get» the information, not only to control but also to get feedback from the display itself.
What safety can it brings to smartphones?
[C.C.]: «What happens in your smartphone, stays in your smartphone»
It means the confidentiality is a relevant point for the use of smartphones.
For example, we spend hours to make some purchases on our mobile.
Do we want our neighbours to get our secret code? NO.
So if the information is not anymore delivered with digital figures, Visual information, but with haptic touch information, then it is direct information between the display and your finger.
And no one can get it! So that is definitely more secure!
What about the Industrial market?
[C.C.]: Think about an operator in the healthcare market or in the industry.
He has to control different parameters of an equipment through display. But in the meantime he has to move his head to look in another direction to check what he is doing.
The problem is the hand follows the movement of the head!
If tomorrow you give back real information only with the finger, with haptic feedback, then the operator can do both.
He can interact and control the equipment and meantime look at the consequences of his fine tuning.
[C.C.]: To conclude there are too many examples to explain how Hap2U technology can really enhance the user experience.
But We hope thanks to these few examples, you more clearly understand how far we will change the deal into the display.
And remember: Haptics is coming!
Want to know more about haptic touch technology? have a look on the other videos!