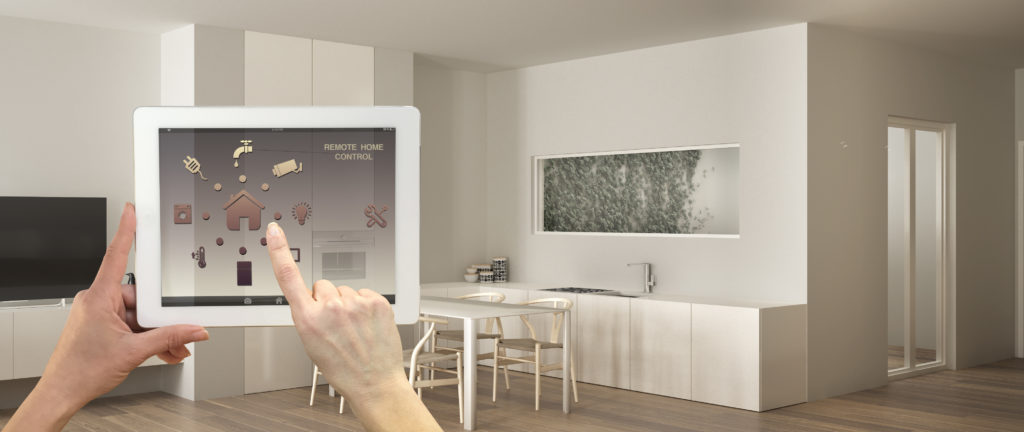 Feeling velvet
Imagine feeling velvet under your finger when you're touching metal, glass, wood or even plastic. Sounds strange? Well, it's totally possible with Hap2U's technology that changes the sensation of textures bringing surfaces alive under your gliding finger. Haptics is the science of touch.
Triggering emotion
When we touch something, it triggers an emotion. However, for the moment, "the sense of touch within the connected home is a technology that is totally under exploited", informs Mickaël Cottin-Bizonne, Onboard systems engineer at Hap2U.
Turning on the air conditioning, closing the shutters or switching on the lights, with a remote control, will be transformed into an exciting, comforting and even relaxing emotional experience with haptics.
Bringing products alive
Beyond smart phones and computers, what if we started to integrate the sense of touch into "clocks, speakers, lights, doorbells, cameras, windows, window blinds, hot water heaters, appliances, cooking utensils, you name it, the possibilities are endless", enthuses Mickaël. Only our imagination is the limit. Haptics will bring products alive, way beyond domotics and connected equipment.
Boosting your customers' experience with touch
Imagine how unique your product will become if it feels (literally!) totally different than any other on the market? The brand experience will take on a whole new dimension.
Increasing accessibility
Older people or the visually impaired are also set to benefit greatly from this technology. Instead of using colour or sound to turn on a lamp or tune a radio, you'll be able to do it by touching different textures with your fingers. "Integrating sound into objects is more expensive than using haptics technology", informs Mickaël.
Moving into the next dimension
Designer, manufacturer, distributor, promoter, retailer…..  if you are looking to create an emotional experience with your customers, let's talk haptics.
Let's work together to introduce the sense of touch into your customers' experience with our easy to integrate turnkey solutions.